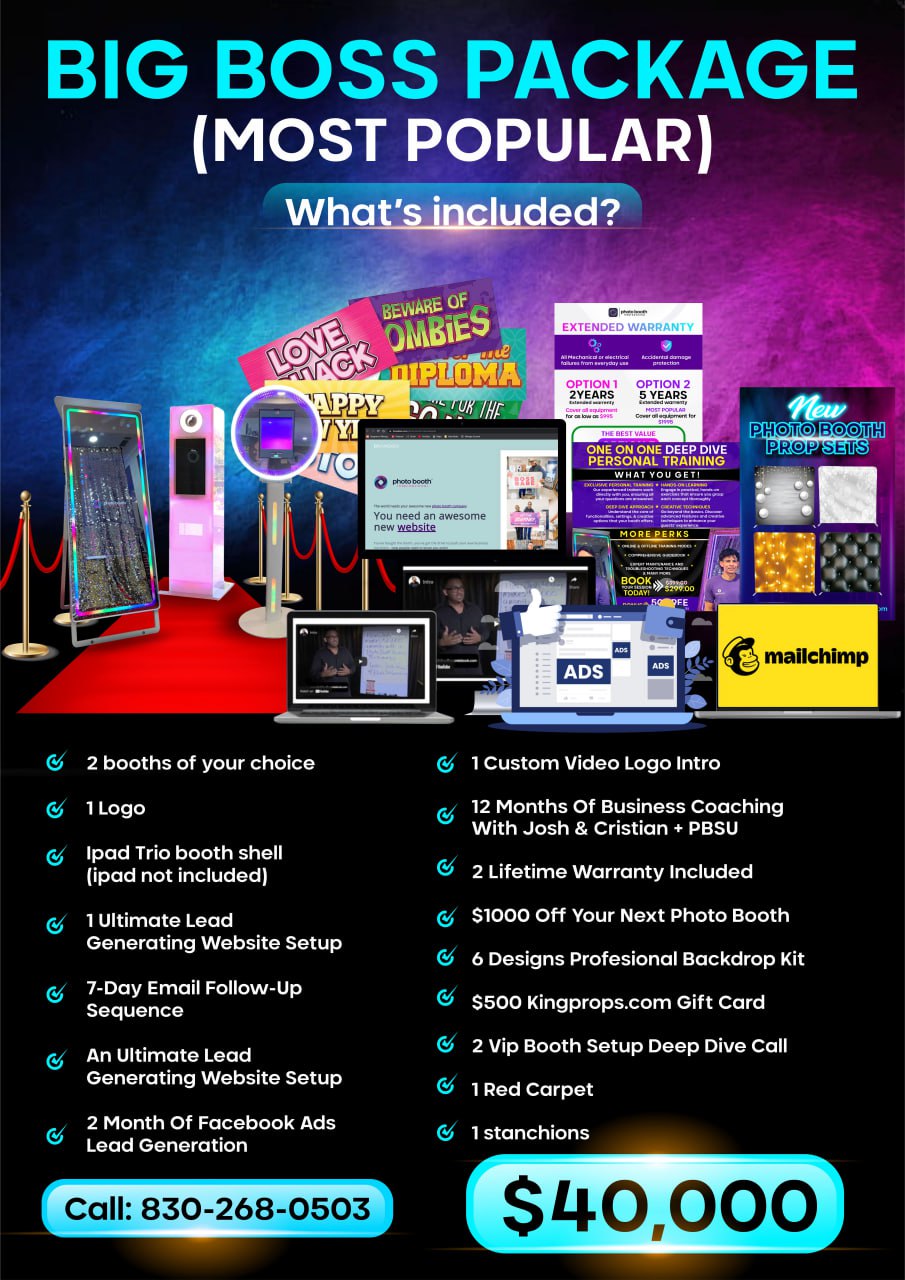 Big Boss Package (Most Popular)
🌟 Introducing The Big Boss Package! 🌟
Are you ready to take your business to the next level? Look no further! With the "Big Boss package," you get everything you need to stand out and succeed.
📸 Two Booths of Your Choice: Elevate your event presence with our premium photo booths. Choose the perfect match for your style.
🎨 1 Custom Logo: Make your mark with a stunning logo that captures your brand's essence.
📱 Included iPad Trio: Interactive experiences at your fingertips (iPad not included).
🌐 1 Ultimate Lead Generating Website Setup: Your online presence is your best sales tool. We've got you covered!
📧 7-Day Email Follow-Up Sequence: Nurture your leads effortlessly and convert them into loyal customers.
💥 2 Months of Facebook Ads Lead Generation: Get noticed where it matters most - on social media.
📹 1 Custom Video Logo Intro: Showcase your brand with a captivating video intro.
📆 12 Months of Business Coaching with Josh & Cristian + PBSU: Personalized coaching to supercharge your success.
🔒 2 Lifetime Warranties Included: Peace of mind for your equipment investment.
💰 $1000 Off Your Next Photo Booth: Planning for the future just got easier.
🌈 6 Designs Professional Backdrop Kit: Transform any space into a captivating backdrop for unforgettable moments.
💳 $500 Kingprops.com Gift Card: More options to enhance your events.
📞 2 VIP Booth Setup Deep Dive Calls: We're here to support you every step of the way.
🎀 1 Red Carpet & 1 Stanchion: Roll out the red carpet and create a VIP experience like no other.
"The Big Boss" package is your key to unlocking endless possibilities for your business. Don't miss out on this exclusive opportunity to thrive and shine. Elevate your brand and dominate your market today!
Contact us now to secure "The Big Boss" package and watch your business reach new heights! 💼🚀